Exhibited in 2017, (Re)Flex Space brought together artists responding to November 2016's elections, the crackdown of U.S. boarders, and the swell of marginalized populations feeling unheard. Participating artists took turns occupying the space through a series of performances, installations and workshops, allowing each artist to build upon the remnants of the preceding work. Artists engaged one another through the accumulation of materials to generate an organic, collaborative reaction to the political climate of the moment. (Re)Flex Space held diverse gestures—ranging from protest and cathartic release to introspection and sharing knowledge—as equally significant modes of processing the contemporary moment and unpacking the social and political responsibilities of art making.



On the evening of Friday, April 28, Cass Davis organized a performance for the opening of the 2017 MFA Show titled Whose Good Old Days? With bales of hay and bunting flags leeched of color, Davis reimagined the parades she grew up seeing in her rural Illinois town—a tradition with KKK roots—as a celebration of people of color and queerness. That evening performers reclined on bales of hay in a tableau vivant which was punctuated by cries of Black Lives Matter slogans. They periodically paraded in full marching band regalia through the galleries distributing fliers declaring "NO," a statement of protest and empowerment.

On May 1, 12:15 p.m. Darryl Terrell performed readings from his blkbycolored project. Drawing from traumatic personal experiences, Terrell unpacked issues of race and gender. Through a powerful account of domestic violence, school bullying, and a life-altering diagnosis, Terrell's narrative to constructed a portrait of a queer, black artist represented here by the marriage of a pan African and LGBTQ flag.




On the morning of May 3, Montiel began installing a series of stenciled soil works on the gallery floor. Informed by textile patterns from her native Mexico, Montiel's earthen pieces evoke both ancient glyphs and every day objects through their labyrinthine formations. Montiel collected soil from locations correlating to Chicago's cardinal points and mixed it with Nopal, a Mexican cactus juice, connecting her investment in her ancestral Mexican craft traditions to her life here in Chicago.





On May 3, at 4:15 p.m. Torres performed a dance in between and on top of Montiel's soil stencils. Locating her body at the site of her artistic practice, Torres's untrained dance privileged awkward, abrupt gesticulations that threatened and sometimes destroyed Montiel's fragile works. Torres invited the audience to make sounds through looped recordings as the soundtrack to her dance. By democratically harnessing a multiplicity of voices, Torres' performance investigated the contemporary Latinx body and its history of diaspora.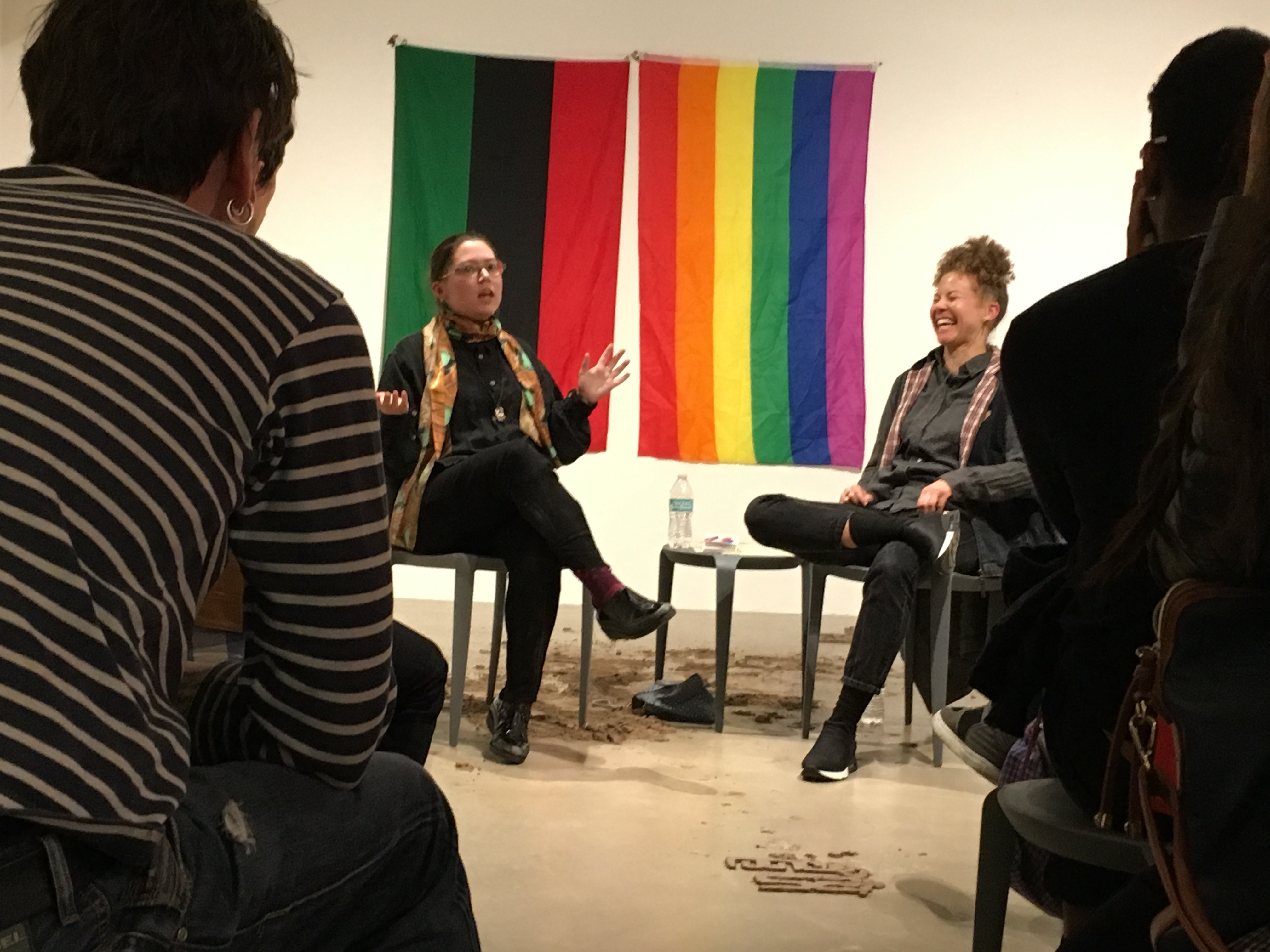 In the Afternoon of May 4, at 4:15 p.m. Luna engaged movement based performance artist, Anna Martine Whitehead, in conversation for an event titled Which ancestors do we run towards? Through personal accounts of their respective experiences being Latinx and Black while having a "white mother," the two artists examined race as it relates to cultural production. Seated atop Montiel's soil stencils disrupted by Torres' dance, Luna and Whitehead negotiated holding the ancestral body within one's form, being and artistic practice. The pair provided a library and reading list of formative literature that guided their conversation to remain in (Re)Flex Space.



Hailing from Mexico City, El Coyote Cojo tackled the myths surrounding the infamous Antonio López de Santa Anna and his prosthetic leg. Blamed for losing half of the countries territory in the Mexican-American War, Antonio López de Santa Anna's phantom limb became a metaphor for the lost territory. Some historical accounts claim the prosthetic leg was seized by the US Army and used as a baseball bat by soldiers in a display of cultural dominance. Taking on the role of myth busters, El Coyote Cojo recreated the prosthetic leg to test the viability of its use as a baseball bat. With customized baseballs inscribed with the borders of the lost territory, El Coyote Cojo interrogates how these historical narratives continue to resonate in contemporary questions surrounding U.S.-Mexican relations.



On Tuesday, May 2, Stechschulte, an MFA in Print media, lead a workshop on risograph printing. Emphasizing democratic modes of art making and distribution, Stechschulte guided participants on the techniques to design their own posters. A week later, on May 9, Stechschulte installed 50 copies of each piece created during the workshop in a "tear-away" format allowing audiences to rip off posters to take home.



For three hours on May 10, DJ Stacy Shakes performed a live broadcast through SAIC's radio station. The performance was live streamed to (Re)Flex Space where beanbag chairs provided by artist, Mary Ancel, allowed audiences to unwind while listening. Taking queues from warfare across the globe, DJ Stacy Shakes played an "A-pop-alyptic," bomb-themed set.



The day after Trump won the the elections last November, Surdell purchased a survival ax. She unleased her frustration and anger on lumber in flurry of cathartic rage. She stacked the wounded beams into dimensions that echoed her own body as physical manifestation of her pain and disappointment.




Embracing feminine tropes such as flowers and the color pink, Peyton-Levine and Rubenoff seek to elevate their subjects from a relegated status of beautiful yet trite and contentless. By adorning (Re)Flex Space with floral print fabrics as well as scraps tissue and flowers preserved in wax, this collaborative pair reclaim their voices as women and assert the potency of the feminine



At 5 p.m. on May 19, O'Neill facilitated a workshop titled Twolight ((((or, Fiction: A Promise) (or, Facts Are Provisional)) Provisional Title) Provisional Title). Leading a group of participants including (Re)Flex's participating artists, O'Neill combined lecture, performance and guided meditation to find agency within groundlessness. Through a video work and a lecture-style meditation, participants reckoned with openness and the unknowability of truth by reflection on the ephemera and memories of the objects still remaining in the space.


Angela Azmitia's drawing practice tracks (Re)Flex Space's changing installations. Her daily ritual—coming to the galleries, sketching the shifting topographies—emphasizes the role of the artist as observer and recorder. By capturing (Re)Flex devoid of human bodies through durational drawing, Azmitia presents the psychological make up of the space through the objects inhabitants leave behind.